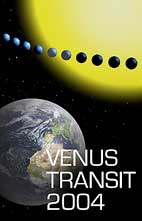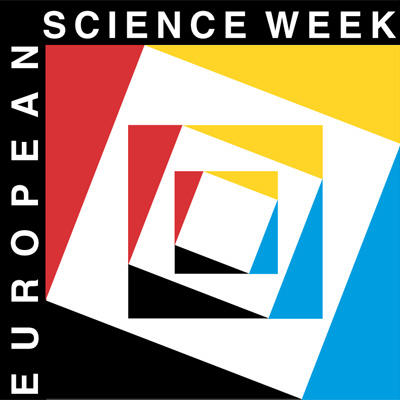 The Venus Transit 2004
... Photos by Themes
Venus' Aureole
Quite a few observers of the Venus Transit remarked upon a rare optical phenomenon which could be perceived at the moment of the second and third contacts. However, unlike the infamous "Black Drop" effect, "Venus' Aureole" could only be seen under very good observing conditions and with excellent telescopes. It was described as a "ring of light" along the perimeter of Venus' black disc and extending beyond the solar limb. Some observers talked about "Venus' horns", stretching outwards from the two points where Venus' disc intersected that of the Sun.
This aureole was first described by the famous Russian natural scientist Mikhail Vasil'evich Lomonosov (1711 - 1765) in his "Apparition of Venus on the Sun, as observed from the Imperial Saint-Petersburg Academy of Sciences on May 26th, 1761". He correctly interpreted the phenomenon as the refraction of the sunlight in an atmosphere surrounding Venus and considered this as additional support of his conviction that there are many other inhabitable worlds beyond the Earth.
A fictive observer on the Moon would see the same phenomenon - an "Earth Aureole" - when the Earth's disc progressively covers the Sun at the time of a lunar eclipse. It is exactly for this reason that the Moon appears very red during a total lunar eclipse: the only sunlight that reaches the Moon when it is entirely inside the Earth's shadow is that passing through the Earth's atmosphere which "removes" most of the blue light.
The VT-2004 Photo Archive contains a good number of photos, both from professional and amateur telescopes, that show the aureole phenomenon at the beginning and at the end of the Venus Transit. Some of these photos have been collected on this thematic page.
Other photos and videos on which Venus' Aureole is well visible are available at the websites of the Dutch Open Telescope (DOT) and the Swedish 1-m Solar Telescope (SST), both located on the Canary Islands (Spain).
All photos on this page may be downloaded and used, provided the photographers (authors) and the VT-2004 programme are indicated as source.
Venus' Aureole at the Second Contact

TRACE Image of Venus Transit (Ingress)

[512 x 513 pix - 184k]

TRACE
[The complete Venus transit was observed from the NASA "Transition Region and Coronal Explorer (TRACE)" mission in white light. Images and movies are available here.]
June 8, 2004, 05:27:27 UT
Orbiting Spacecraft


Venus' Ring of Light at Ingress

[561 x 764 pix - 59k]

Lorenzo Comolli
[Gruppo Astronomico Tradatese]
20-cm Schmnidt Cassegrain telescope
Panasonic NV-DS15 ditigal comcorder
[Image processing from two videos - one correctly and another over-exposed]
More images at this site
June 8, 2004, 05:34 UT
Tradate, Italy


Venus' Faint Ring

[800 x 600 pix - 121k]

Dmitrios Kolovos
Celestron-11 SCT with Baader Astro-Solar filter
Sony F-717 still digital camera
June 8, 2004, 05:34:30 UT
Athens, Greece


Aureole Effect

[556 x 591 pix - 54k]

Mauro Auteri & Floriano Paglia
G.V. Schiaparelli Astronomical Observatory, Varese, Italy
SC 203mmm at f/10 + Barlow 2x+ Webcam Toucam Pro. June 8, 2004 ; 05:36:30 UT



Venus' Aureole at the Third Contact

Venus Transit - The End

[648 x 514 pix - 27k]

DOT Group
45-cm Dutch Open Telescope
G-band image
[Venus' atmosphere is visible as a bright, circular band outside the solar disc. This remarkable effect is due to refraction in the upper layers of Venus' atmosphere that bends the transmitted sunlight in our direction. See also the DOT Egress movie] More information at this site.
June 8, 2004
La Palma, Spain


Venus Transit - The End

[648 x 514 pix - 21k]

DOT Group
45-cm Dutch Open Telescope
Ca II K image
[Venus' atmosphere is visible as a bright, circular band outside the solar disc. This remarkable effect is due to refraction in the upper layers of Venus' atmosphere that bends the transmitted sunlight in our direction. See also the DOT Egress movie] More information at this site.
June 8, 2004
La Palma, Spain


The Atmosphere of Venus

[420 x 390 pix - 37k]

VT-2004 Team
Slovak Union of Amateur Astronomers
Observatory Rimavska Subota
160/2450mm refractor with AstroSolar filter
CCD camera SHT
June 8, 2004, 11:05:32 UT
Rimavska Subota, Slovakia
More images at this site


Third Contact - Animation

[Animated GIF - 430 x 428 pix - 1020k]

VT-2004 Team
Slovak Union of Amateur Astronomers
Observatory Rimavska Subota
160/2450mm refractor
Logitech Quickcam Pro4000 with 2x teleconverter
CCD camera SHT
Combination of 9 exposures, each 0.035 sec
June 8, 2004, mid time 11:06 UT
Rimavska Subota, Slovakia


Venus with Atmospheric Ring at Third Contact

[320 x 240 - 4k ]

Robert Stekelenburg
140/2000mm Orion Optics Maksutov OMC140
Philips ToUCam 740k
[Composite of 100 frames from 10sec video;
processed with Astrostack]
June 8, 2004, 11:08 UT
Enschede, The Netherlands


Venus' Atmospheric Ring

[979 x 882 pix - 66k]

Observatoire de Paris
Meudon Solar Tower
60-cm aperture; 45-m focal length
Monochromatic light (Wavelength 430 nm; bandwidth 10 nm)
June 8, 2004, 11:07:46 UT
Meudon, Paris, France


Aurora around Venus

[1255 x 959 pix - 339k]

Gian Nicola Cabizza
130 mm apocromatic refractor with Herschel prism.
[During the end of transit, a dull aurora is visible in the outer edge of Venus]
June 8, 2004
Italy


"Ring of Light" - Sharpest Image

[572 x 810 pix - 71k]

Ralf Vandebergh
6-inch refractor f/8
Sony TRV740 camcorder
June 8, 2004, 11:03:40 UT
The Netherlands


"Ring of Light" in Late Stadium

[1300 x 440 pix - 76k]

Ralf Vandebergh
6-inch refractor f/8
Sony TRV740 camcorder
June 8, 2004, 11:05 - 11:17 UT
The Netherlands


Venus' Atmosphere

[1000 x 802 pix - 53k]

Ralf Vandebergh
6-inch f/8 refractor
[Sunlight scattered in the upper layers of Venus' atmosphere produces a bright ring - an "aureole"]
June 8, 2004, 11:05:31 UT
The Netherlands


"Ring of Light" in Very Late Stadium

[1000 x 750 pix - 103k]

Ralf Vandebergh
6-inch refractor f/8
Sony TRV740 camcorder
June 8, 2004, 11:11:37 UT
The Netherlands